Last Thursday the Year 9 cohort had the pleasure of welcoming Cath Moore, author of Metal Fish, Falling Snow, to talk with us about her life and the making of her book. This book is the subject of analysis in the current English unit. We discussed present themes in the book, and how Cath Moore's hardships made their way into the story, and furthermore into the main character of Dylan. It was inspiring to hear about the book publishing process, and she gave insight into what she could have done differently and how students can learn from her experiences in the field, also mentioning her inspirations for the characters in the book. Overall it was an incredibly enriching experience, as we learnt a lot about Cath Moore, the book itself and its making.
Thank you Cath Moore for coming along and sharing with us!
Milo 9Z. 
From the perspective of the English teaching  team, students asked insightful questions and Cath Moore remarked on the level of intellectual engagement our students showed in their discussion of the text. Our Year 9s are to be commended on the way they embodied our school values of Engage and Respect throughout the incursion.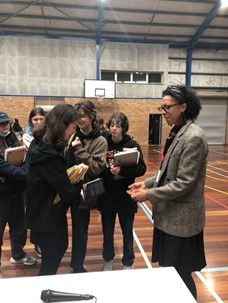 Fitzroy High School
Trust, Engage,
Respect