This year the VCAL program at Wurun Senior Campus welcomes over 65 students from Fitzroy High School, Collingwood College and other secondary settings. We have four VCAL classes, covering all VCAL curriculum levels (Foundation, Intermediate and Senior).
All of our students are also enrolled in a VET study (or bring credits from previously completed VET studies). This incorporates a wide variety of subjects including Acting, Electrotechnology, Sport & Recreation, Allied Health, Music Industry, Horticulture, Visual Arts and Integrated Technologies, delivered via a range of external providers. We also again have students attending Hospitality & Kitchen Operations and Screen & Media VET programs onsite at our Collingwood College campus. A number of VCAL students have chosen to incoporate VCE subjects to their 2022 studies, with enrolments in Outdoor Education, Studio Art, General Maths, Theatre Studies, Business Studies, Music Performance and Media.
We have a number of challenging units of work planned, including continuation of the Micro Enterprise and Young Changemakers programs, introduction of Scott Harris's Crashing Into Potential Literacy unit, and the Hands On Heads collaboration with Melbourne University's Faculty of Medicine, Dentistry and Health Sciences.
We will continue to actively engage with our established community partners, including the Old Colonists' Association of Victoria, STREAT and the Inner Northern Local Learning and Employment Network (INLLEN). We are exploring the feasibility of a VCAL camp (let's hope that we can make this happen in 2022!), and we've just secured tickets to the Driving Learning Education Program at the Formula 1 Australian Grand Prix, a STEM focused program which aligns well with VCAL outcomes.
All in all, we are looking forward to an exciting, engaging and challenging wrap up to the Victorian Certificate of Applied Learning this year, as we also plan for a smooth transition to the new VCE Vocational Major (VCE VM) and Victorian Pathways Certificate (VPC) curriculum in 2023.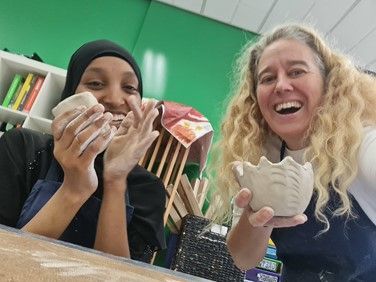 Fitzroy High School
Trust, Engage,
Respect