#02
Career Exploration Time
Just like that Term 2 is over and we are looking at the second half of the school year and what career support is in place to help our young people develop a sense of purpose, direction and career clarity! The next term is one of the busiest of times for careers counsellors in schools and our school is no exception.
Career Conversations have continued through the transition of back to face to face. This term we saw an influx of students working through the transition of back to face to face learning and further opening the conversation around what types of careers and jobs they may want to explore. These conversations had a large focus on COVID-19 and students demonstrating that they were wanting to look at careers that factor in security, future growth, health and safety, given the current climate. With further media attention on employment trends and university courses it has been even more important that the Fitzroy High School community feels supported in understanding students options in and out of school.
Year 9
My Career Insights program assessment has been completed at school with half of our students finishing the assessment. Students can still complete the assessment during the holiday break and are encouraged to do so if they have not finished it. Assessments need to be completed by the end of the break in order for the school to engage in the next step of the My Career Insights project. A friendly reminder all consent forms to be sent to tysond@fitzroyhs.vic.edu.au
Parents can expect further communication about this program halfway through Term 3, stay tuned!
For further information for parents on My Careers Insights, click here.
Year 10
In the first half of Term 3 students will have a career conversation as a part of their preparation of choosing a Senior School pathway. This is where they can receive personal advice around subjects, jobs, universities, TAFES and life outside of school. Students are encouraged to revisit their Morrisby Report, as a part of their My Career Insights program they completed in Year 9 as well as their career action plan. Students can log back in and review this at Morrisby.com, if they are having difficulty accessing their profile, send an email to tysond@fitzroy.vic.edu.au
Year 11
All students are still able to organise a career conversation by visiting the booking link of https://calendly.com/fhs-careercounselling/30min
Students are also encouraged to make the most of the university, TAFE and pathway information available at the moment as many providers will have open day information and resources that Year 11 students can access. For more information visit the Fitzroy Career Page – Open Day/Virtual Tours
Year 12
Students are encouraged to explore the Fitzroy Career Page – Open Day/Virtual Tour information and place key dates in their diary to visit campuses (social restrictions depending). Students will be meeting with Career Services at the start of August and September to be supported with their thinking and decisions for life after Fitzroy. It has been great to see how many students have connected with career services in Term 2. Students are encouraged to bring their questions about GAP years, work and tertiary options to their session as we want every student feeling confident leaving their secondary schooling.
Admissions for universities are starting to filter through further information around key dates, entry requirements and the student application process.
For all students who are wanting to study in Victoria, VTAC have released key dates on which they are listed below: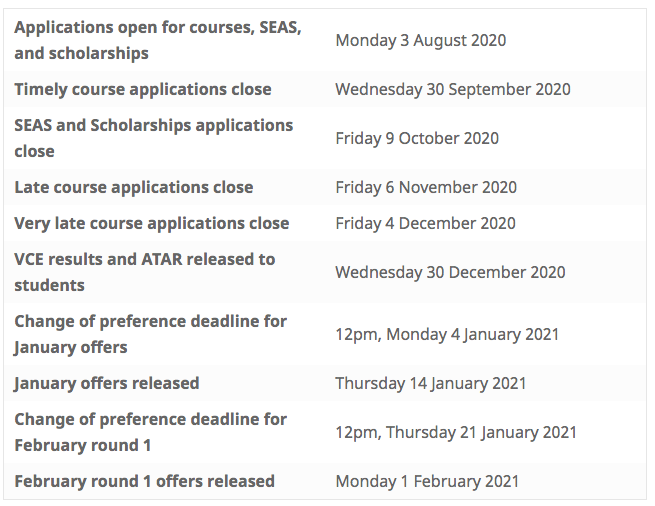 VTAC will be holding parent webinars and information sessions which will be released shortly.
If students are wanting to apply interstate please review the following websites to understand and support their application process.
NSW & ACT = UAC
QLD = QTAC
WA = TISC
SA & NT = SATC
TAS = University of Tasmania
I would also recommend following Tertiary Information Service and their facebook page for webinars and information on how to apply for tertiary studies in Australia.
If students are looking to apply internationally universities and colleges will advertise international student information on their website. As it is unclear on the impact of COVID-19 for international students in 2021 it is hard to advise on this particular pathway. But please send questions to tysond@fitzroyhs.vic.edu.au as I can reach out to other networks and connections who may be able to shed some light on a particular college or pathway.
Education USA
EducationUSA Australia –School Holiday Virtual Week – Join us July 6-10
EducationUSA is a U.S. Department of State network and the official source on U.S. higher education. The EducationUSA advising teams in Australia and New Zealand have created a week-long webinar series for prospective students across Oceania, called #EdUSAVirtualWeek. The Virtual Week will be hosted July 6 – July 10 and will include nine informative webinars with 20 U.S. universities participating. This is an excellent opportunity for students and parents to hear from U.S. colleges and universities to obtain firsthand information about studying in the United States. Review all available sessions from our event page https://bit.ly/EdUSAAusEvents and register today! #EdUSAVirtualWeek #EdUSAatHome
Something Extra
Career Education can often be something that is overlooked as the focus turns to exams subject choices and university prerequisites. To help your young person decide on the type of areas that they want to explore for life after school try some of these questions around the house over the break:
What would you do if money and status did not matter?
What would be your dream job if you could start it tomorrow?
What jobs do you think you would be good at?
How do you think the world of work will look in 10 years time?
From my perspective, I thank you for your patience and understanding that we are faced with uncertain times with pathways and courses and that I will do my best to get the relevant information to the school community as soon as possible.
Tyson Day
Careers