In Year 11 and 12, students have tutorial classes which aim to improve individual academic skills, broaden student knowledge and support their regular subject program.
"Career Talks" have been devised to inspire students, broaden their thoughts about work and provide a meaningful part of the research process that all students in Year 11 and 12 need in order to develop individual pathway plans for their post secondary schooling days.
24 enthusiastic students signed up and chose to participate in the first of our "Career talks" workshops. The first of our workshops featured the professions of Architecture, Engineering and Project Management.
Our guests were:
Davin Mills – SEMZ, Project Manager
Martin Palmer – GHD, Architect
Tai Hollingsbee – GHD, Engineering
Davin, Martin and Tai gaven the students insight into their day to day life as an engineer, architect and project manager, the range of tasks, some of the key skills for success and some insight into their personal journey to where they are now.
Each of them touched on the international opportunities in their industries, the skills being transferable across the world and the team work required between each of their fields.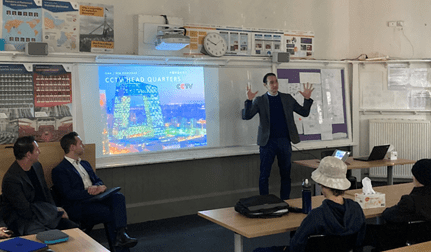 Tai showed the students various buildings across the world he worked as mechanical engineer including the CCTV headquarters, the Gherkin building in London and some other iconic buildings in the US, Hong Kong and China. He spoke about the common language of physics and mathematics in his work across the world.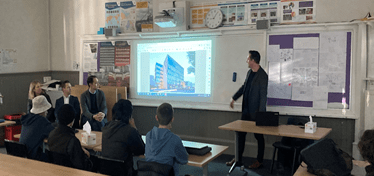 Martin talked the students through one of the firm's latest projects – the Barwon Water building in Geelong. He spoke about the role of the architect in the design but more broadly about the teamwork with all stakeholders to get the best possible outcomes for everyone.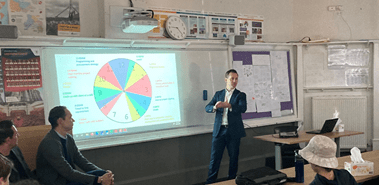 Davin spoke about the complex nature of project management, the interpersonal and communication skills needed and fundamentally the role of developing relationships to enjoying success in this profession.
No day is the same in this role. He spoke about the joy of helping all stakeholders involved achieve a successful project.
We thank Martin and Tai from GHD and Davin from SEMZ for sharing so generously their passion and experiences with our Year 11 and 12 students.
I would encourage all Year 11 and 12 students to sign up to our next round of "Career talks" workshops. I can certainly accommodate as many interested students as possible.
Chris Millard
Campus Principal Collingwood College and Fitzroy High School