Fitzroy High School and Collingwood College's Year 12 Theatre Studies class presents a digital interpretation of Tom Wright's adaptation "Picnic at Hanging Rock", premiering Thursday 18th of June!
On a summer's day in 1900, three Australian schoolgirls on a picnic expedition to the remote Hanging Rock abscond from the group. They are last seen heading towards the beckoning rock. In Tom Wright's chilling adaptation of Joan Lindsay's classic novel, five performers struggle to solve the mystery of the missing girls and their teacher. Euphoria and terror reverberate throughout their community, as the potential for history to repeat itself becomes nightmarishly real.
The Theatre Studies students have chosen to employ the theatrical styles of Expressionism and Theatre of Cruelty in order to create an abstract, eerie interpretation of the timeless tale. The entire production is created, directed and produced by the students in the Year 12 Theatre Studies class. VCE Theatre Studies requires students to focus on two areas of stagecraft including; directing, acting, lighting, sound, set design, and costume – this year, the exploration of media was additionally undertaken.
Due to Covid 19 restrictions, this year students have shown an outstanding level of dedication as they worked to produce a short video excerpt of what their theatre show would have looked like by transforming their directorial vision to suit the requirements of a digital production.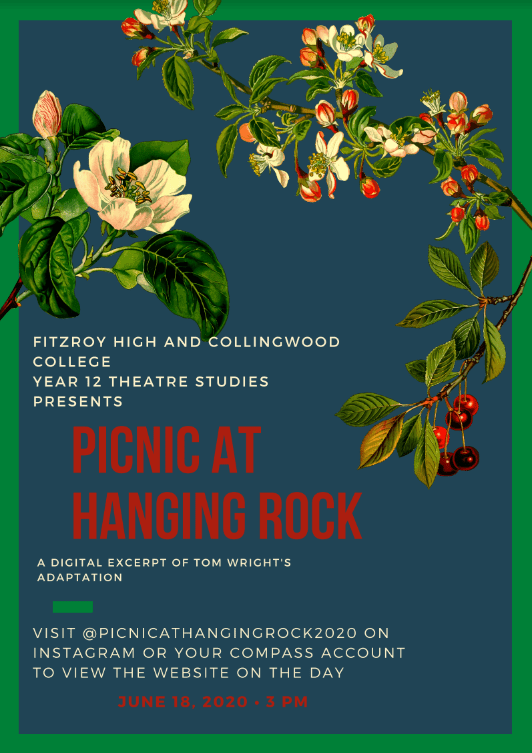 The digital production will be released via a dedicated website set to be launched at 3pm on Thursday 18th of June! Access to the website will be made possible via FHS and CC compass and the dedicated instagram page.
To stay up to date with the latest information, play making process and exclusive behind the scenes content, head to the production instagram account; @picnicathangingrock2020
Harriet N & Julia G
Producer & Director
Year 12 Theatre Studies students