Be safe, have fun, take photos/notes to complete your HoL@home Folio and share with your HoL team. Reminder: as part of your planning use the HoL@home JSA to identify risks to keep this activity safe, and email Penny with your completed work: pennys@fitzroyhs.vic.edu.au
Please click here for the HOL@home Safety Analysis template
Description:
Create a soft toy bear for yourself or someone else, like Courtney from Fitzroy High School has done for a Childcare Centre.

Introduction:
Below are some pictures of the bears donated to the Childcare Centre in Fitzroy.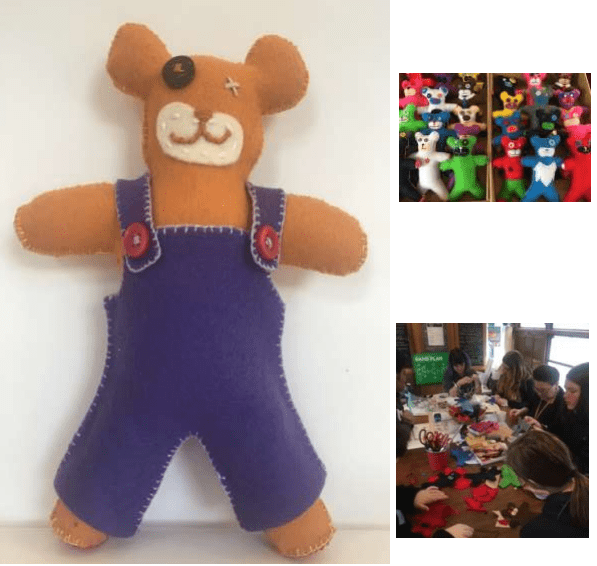 As you can see there is no limit to Courtney's imagination and that of the enthusiastic bear makers from the Fitzroy High School Hands on Learning team. But beware – making bears is lots of fun, so once you start it's hard to stop! Please send a picture of your creations to your artisan-teacher so we can share these with Fitzroy High (via their HoL School Support Manager).
MATERIALS AND EQUIPMENT NEEDED:
• scissors
• pencil and paper
• pins
• needle
• buttons
• embroidery thread
• stuffing
• felt

SKILLS YOU NEED:
• some basic sewing skills (or some help) – see 'resources' below for some ideas
• creativity
• patience
SAFETY ISSUES:
• be aware of pin-pricks with needles and where all your sewing needles and pins are
DURATION:
• this depends on your experience and how many you plan to make Step 1. Draw your bear design onto an A4 sheet of paper and cut around it with scissors.

Step 1.
Draw your bear design onto an A4
sheet of paper and cut around it
with scissors.

Step 2.
Pin the Bear Design to your felt. Make sure you fold the felt to
cut out 2 bears at once.

Step 3.
Design the face.
You can be as creative as you like designing the face.
Make a cross for the eye and sew on a mouth and
nose.

If you have little children around it is best not to use
a buttons, as they are a choking hazard. Stitched eyes
are safer.


Step 4.
Pull out a length of embroidery thread and split
it length wise to make a thinner thread. (3 ply)
Sew neat small Blanket stitches around your
bear.

Leave the inside leg open.


Step 5.
Stuff your Bear using a blunt tool.
A knitting needle is great or the blunt end of the
pencil.
Be sure to stuff the neck, body, ears, legs and
arms really well otherwise your bear will be
floppy.


Step 6.
Once your bear is firmly stuffed sew around the
inside leg area.
If you want you can cut a circle of felt and sew it into
the base of each leg so he has a flat base to stand up
on.