We have supplied some ideas for activities at home to help you keep learning and practicing your skills. Please keep in mind that in HoL we encourage initiative, but normally you are supervised by staff with skills and this may or may not be available at home. Please ask your parent/guardian first before starting this activity. Be safe, have fun, take photos/notes to complete your HoL@home Folio and share with your HoL team. Reminder: as part of your planning use the HoL@home JSA to identify risks to keep this activity safe, and email Penny with your completed work: pennys@fitzroyhs.vic.edu.au

Please click here for the HOL@home Safety Analysis template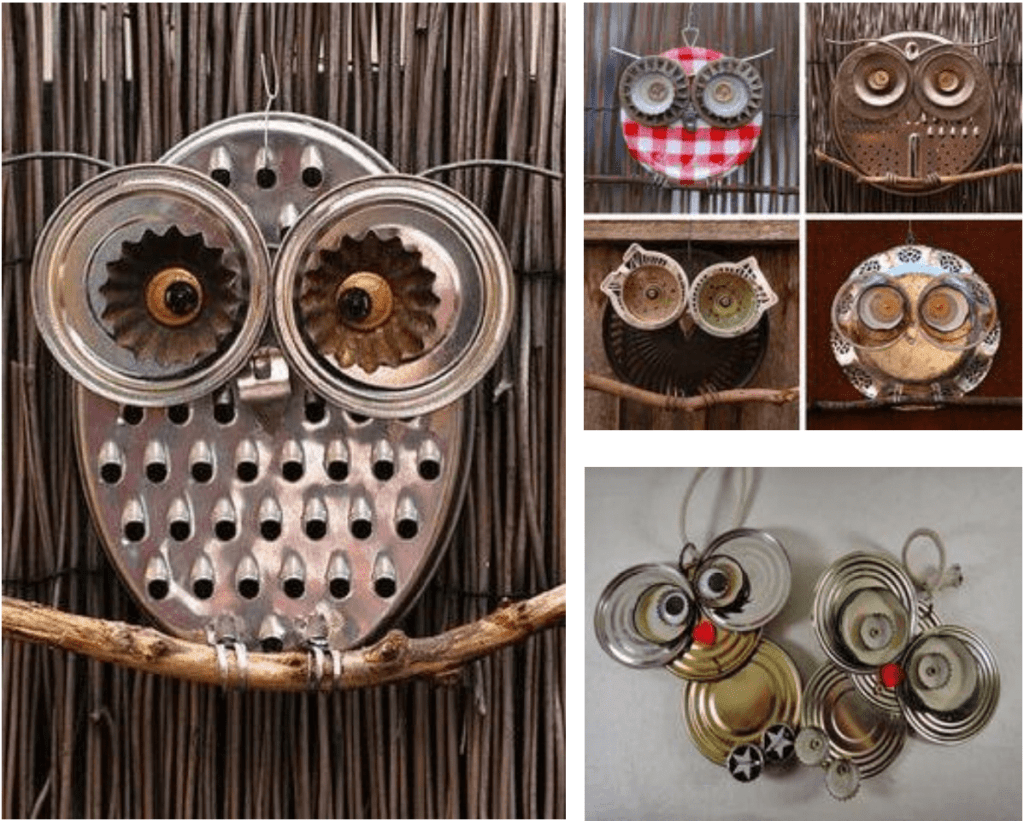 Create a unique owl sculpture using recycled materials.

This project is a great way to recycle old utensils from around the house. They make a lovely addition to your
garden. How about creating a family of owls to brighten up a wall or fence around your place?

MATERIALS AND EQUIPMENT NEEDED:

• assorted household utensils e.g. cheese graters, cupcake trays, cutlery, baking tins, etc.
• lids
• bottle tops
• metal plates or saucers
• tins
• buttons
• tree branch for perch (if required)
• wire/string for hanging
• liquid nails or another strong adhesive
• caulking gun (if using liquid nails)

SKILLS YOU NEED:

• creative imagination
• patience
• familiarity with caulking gun

SAFETY ISSUES:

• Gluing fingers to materials. Ensure you read the instructions on your adhesive and follow the safety
guidelines and cleanup instructions.

DURATION:

• Minimum 2 hours from sourcing materials, depending on complexity of design.

Details

Step 1: Gather materials from around the house you will use to create your owl. Consider the weight of the
materials relative to what adhesive you have to use.
Step 2: Find an appropriate workspace that will allow time for your work to dry completely before moving.
Step 3: Place you pieces together to design your owl. Ensure you have all materials required before you begin.
Step 4: Begin gluing pieces together. Ensure your pieces are set in place before adding more and moving your
owl around. You will need patience here.

Step 5: Once completed, allow to dry completely.
Step 6: Attach your owl to a perch if required. Potentially wire this on.
Step 7: Find a special place for your owl and hang as required.