Tickets on Sale Monday 25th June
Collingwood College and Fitzroy High School's Year 12 Theatre Studies class presents  an adaption of Arthur Miller's "The Crucible"  from July 26th – 28th in the Collingwood College Theatre.
The performance season consists of three evening performances and one matinee;
Thursday 26th July – 7pm
Friday 27th July – 7pm
Saturday 28th July – 2pm Matinee
Saturday 28th July – 7pm 
Miller's timeless parable attacks the evils of mindless persecution and the terrifying power of false accusations. At its heart lies one man's fight to retain his identity. Inspired by the 1692 witch trials in Salem, Massachusetts  'The Crucible' remains a powerfully relevant commentary on the struggle of individual conscience in a lethal climate of fear and intolerance.
The Theatre Studies students have chosen to employ the theatrical styles of Expressionism and Theatre of Cruelty in order to create a dark and political interpretation of Miller's timeless tale. The entire performance is created and directed by the students in the Year 12 Theatre Studies class. VCE Theatre Studies requires students to focus on two areas of stagecraft including; writing, directing, lighting, acting, publicity, sound, set design, and costume.
DUE TO THE THEMES AND CONTENT EXPLORED IN THE PLAY THERE IS A STRICT MA 15+ RECOMMENDATION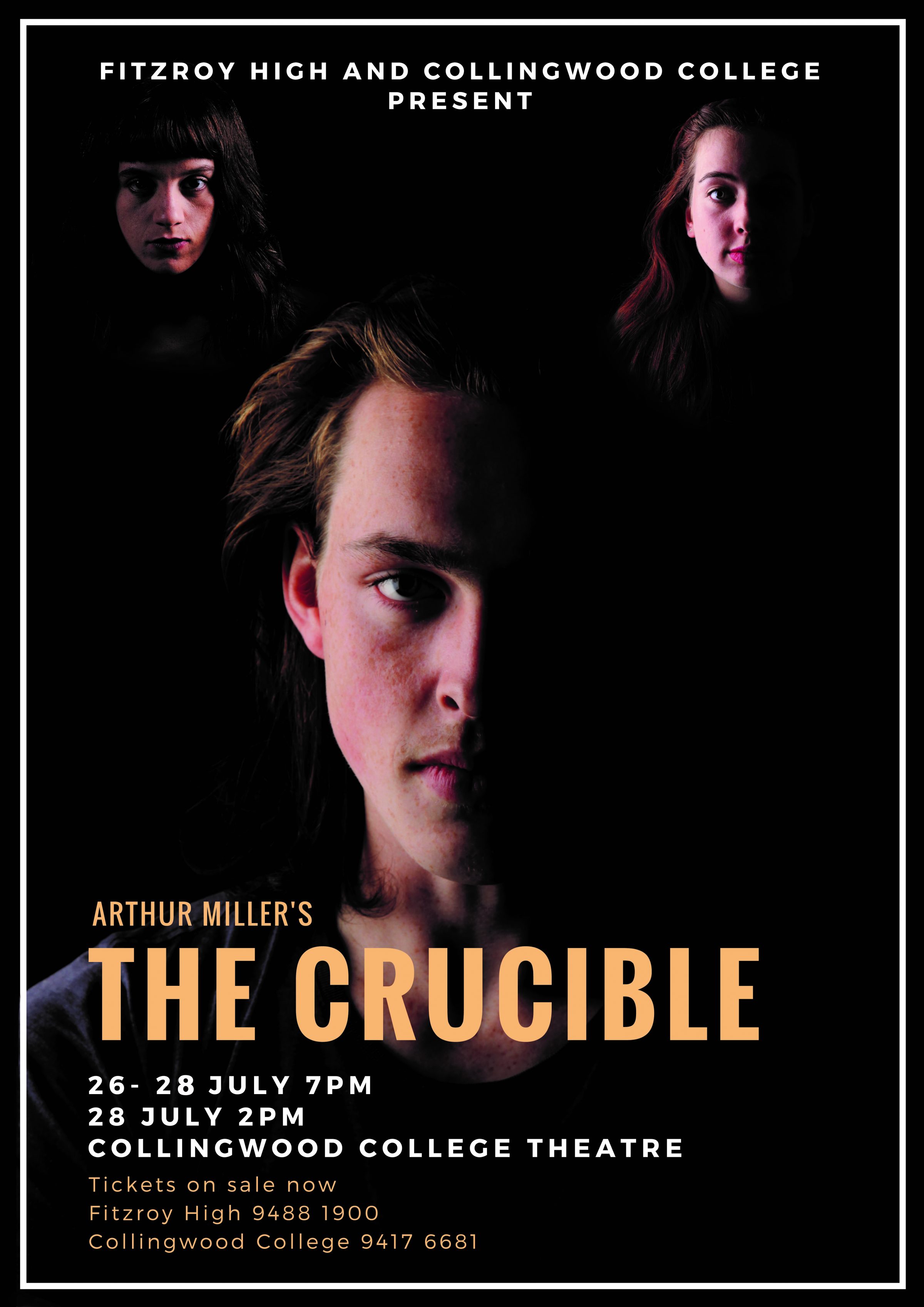 Tickets go on sale Monday 25th June. Tickets can be purchased in person from both the Fitzroy High School and Collingwood College Office or by calling:
Fitzroy High School – (03) 9488 1900 Collingwood College – (03) 9417 6681
Ticket Prices
Student (15+) – $5.00
Concession – $5.00
Adult – $10.00
Family – $20.00 (2 Adults & 2 Children 15+)

PLEASE NOTE ALL TICKETS ARE GENERAL ADMISSION
Be quick. Tickets will sell fast!
Jennifer Campbell
Senior School Learning Community Leader
Year 12 Theatre Studies Teacher